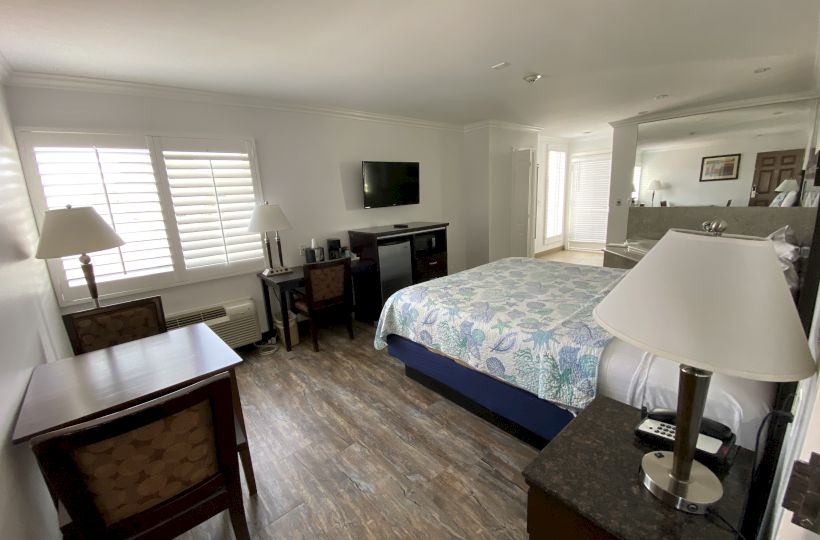 Every Day Is A Beach Day
Wake up to the soothing sounds of the Pacific Ocean and breathe in the fresh Orange County air. Casual, relaxed, and contemporary, travelers are invited to live the SoCal lifestyle. Start your day with a solid free continental breakfast at the property. Surf the web with complementary WiFi. Ideally located just steps from the beach with easy direct access, Ocean Surf Inn is made for surfer, vacationers, wanderers, and travelers seeking an authentic Orange County escape.
STAY BY THE BEACH
Only 30 Rooms = More Peace
We offer 30 well-appointed rooms featuring useful amenities like a Continental Breakfast, refrigerator, microwave, coffee maker, and complimentary WiFi access. Enjoy a vacation-like experience year-round in rooms that feature gel memory foam beds, or upgrade your stay to one of our deluxe jacuzzi rooms, which offer partial views of the Pacific Ocean and some include a balcony.
FALL IN LOVE WITH SUNSET BEACH
A Beach-lovers Haven
The quaint seaside community of Sunset Beach is a beach-lovers haven. Less than two miles long, Sunset Beach is a stunning hideaway just a few minutes north of Huntington Beach. While Huntington is known as "Surf City," Sunset Beach offers great waves for surfers of all skill levels. True to its name, Sunset Beach is a great place for romance offering couples enjoying a weekend getaway.
30 steps (2 minutes) to the beach
Complementary continental breakfast
Private jacuzzi rooms
Check out beach chairs & beach toys
Walking distance to many restaurants
DRINK UP. EAT UP
Being This Close To The Ocean Has Its Perks
One of those is great seafood. Sunset Beach offers a wide selection of great restaurants, bars, and cafes. Savor the taste of the sea at Sam's Fish & Chips. Indulge in an artisanal sandwich and beer at Brix Sunset Beach. Enjoy a romantic Italian dinner at Romano Cucina Sunset Beach. Grab some comfort food at Woody's Diner. Get your late night fix at Harbor House Cafe. From independent juicers to gourmet eateries, there's something for every taste, appetite, and budget.